The MAB String Dampener from ChromaCast - $19.98
Click here to order the MAB String Dampener and all other MAB signature products from Chromacast!

"The MAB String Dampener" US Patent No. 7,488,880 is great for tapping and legato style guitar playing!

Easy to use. No assembly required. NO DRILLING anywhere on your instrument!
The "MAB String Dampener" is available exclusively through ChromaCast.

To order click on the link below. The link will take you directly to the ChromaCast site,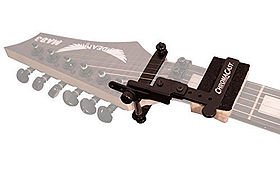 Just unscrew the two "thumbscrews" and secure "The String MAB Dampener" to the headstock of your instrument. It's that easy to use!

Michael invented "The MAB String Dampener" to function as a proverbial "3rd hand" when he performed on his famous Double-Guitar. "The MAB String Dampener" slides on to your guitar when you want to use use it and then you can take it off when you are done with it. There is NO DRILLING ANYWHERE on your expensive instrument, NO ASSEMBLY required and no tools are used to place the dampener on or take it off your guitar. 2 Thumbscrews are all it takes to put "The MAB String Dampener" on or take it off of your instrument. "The MAB String Dampener" fits ALL 6, 7 or 12 string, Electric or Acoustic Guitars. People who have seen Michael perform his trademarked Double-Guitar always comment on how effortlessly Michael plays it. Part of his effortless playing is "The MAB String Dampener." The function of "The MAB String Dampener" is to stop ALL extraneous or unwanted string noise. This results in ONLY the note you want to sound is played. All other notes are completely dampened. "The MAB String Dampener" also helps stop excessive feedback, helps "cleanup" your guitar playing, is completely adjustable and moves out of the way when you don't want to use it. If you are playing a passage on your guitar that requires "The MAB String Dampener" you can with one quick motion put it down on the frets and use it. When you are done using it just move the bar up and out of the way. This dampener is so easy to use, install and adjust that we feel comfortable saying it is THE BEST one in the WORLD! "The MAB String Dampener" is anodized jet black and features a white dampening agent to completely block unwanted string noise. Not only does it work fantastically, it looks great.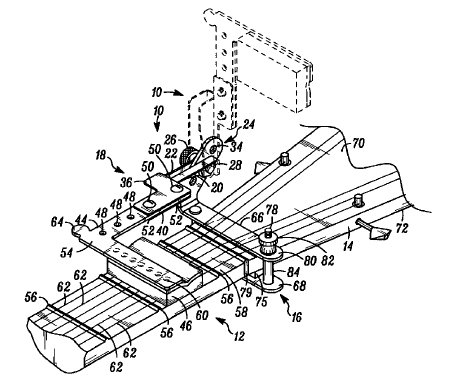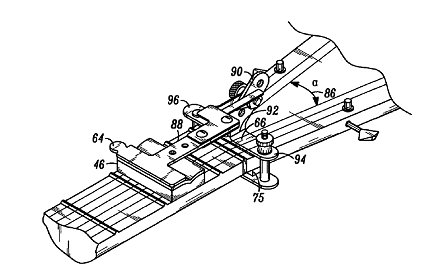 Above are 2 of the actual drawings used by the US Patent Office to illustrate MAB's incredible String Dampener design.